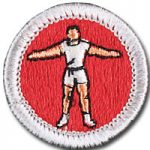 Hello Everyone! I hope this email/post finds you well! I wanted to take a quick moment and outline our plans for next month. We are going to be starting/continuing the Personal Fitness merit badge. This is an Eagle required merit badge. However, before you can start the merit badge, there is a pre-requirement that need to be done.
Do the following:
a. Before completing requirements 2 through 9, have your health-care practitioner give you a physical examination, using the Scout medical examination form…
This needs to be done before any of the other requirements can be completed. If you already had a physical for school, ask your doctor if he would be willing to fill out the scout medical form after the fact (most are happy too). If you have not yet had one, just print the form and take it with you.
We plan on starting this merit badge on the 16th of September with our merit badge counselor, Brother Stinson. We will have another session on the 30th after our Court of Honor.
Please go over the requirements yourself so you know what we will be covering. I want to remind scouts that this is not a simple merit badge to finish. It requires improvement after 12 weeks as well as keeping logs during the 12 week period itself. If you have any questions, please feel free to reach out to Brother Stinson or I.