Once upon a time (specifically February 6th & 7th, 2015) in Caroline Pines there was a scout troop. The first day we played capture the flag. In that game Charlie tackled Jacob and knocked him over (some how leaving a tooth mark in Jacob's shoulder). For dinner, John prepared a fantastic foil meal of smoked chicken, pan roasted potatoes, onions, and green beans. We slept pretty good that night and woke up to a wonderful breakfast scramble made by our teamwork and John.
After eating we visited a tree at a nice river that used to have a rope swing, however it was removed in years past. The river was nice and relatively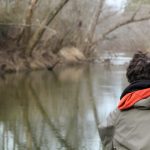 clear. After the visit to the river we went back to camp where we relaxed, played some games, and talked while Neil cooked our fantastic lunch. The lunch was a stir fry with steak and was very tasty and the sauce was amazing. The camp out was fun and a success, everyone had fun. The camp out was a little cold at night and in the morning but warm in the after noon. We then packed up trying to make it look like we were never there like the outdoor code says, "leave no trace."
The scouts had a good time there. We got some experience and chances to test and try things that we have learned during our scouting adventure.